Recently I took to twitter to speak my mind on the Johnny Manziel/Cleveland Browns issue and it went like this…..
After posting these tweets and reading my mentions, it got me thinking. More specifically, "Ranting On The 50 Yard Line" immediately popped in my head. These rants will give me a chance to just air my mind out on certain topics. There isn't a set schedule for me to post these/ Just whenever enough builds up inside of me, I'll post them. So with that being said….
LeSean McCoy, Chip Kelly & The Eagles 
Ever since McCoy was suddenly traded to Buffalo, it seems like every week the running back has something new to say about "Chip Kelly & The Eagles" (you'll see why I did that in a second). But his latest comments really did rub me the wrong way:
"I don't think he likes or respects the stars. I'm being honest," McCoy told The Inquirer on Monday. "I think he likes the fact that it's 'Chip Kelly and the Eagles.' "
Just in this article alone he made comments that were salty..but then would turn right around in the next couple paragraphs and say he has no problem with Chip Kelly. You can read the article yourself.
That was just a stupid comment on behalf of McCoy. Last time I checked, his replacement is the reigning NFL Offensive Player of the Year. Is DeMarco Murray a bigger star that McCoy? That's debatable. But I wonder if McCoy ever thought about the fact that besides the fact he had a high salary cap hit and an annoying running style that didn't fit Chip's offense, that maybe, just maybe his attitude is the problem. He's been in Buffalo for less than a month, but I've heard him talk about Philly more than he has his new city.You sound like that bitter ex girlfriend that will say she's not bitter, but everything she says proves otherwise.
Now don't get me wrong, If I was one of the elite guys at my position and I was just traded randomly and didn't see it coming, I'd be pissed as well. But make up your son. One moment you don't have hard feelings, then you're pissed…I'm just trying to understand. He's said Chip has called him twice but he didn't answer…but he still doesn't fully understand why he was traded because the owner and coach have given two different reasons (both which make tons of sense).
Now there is absolutely no denying McCoy's talent. Look at what he's done the last two years: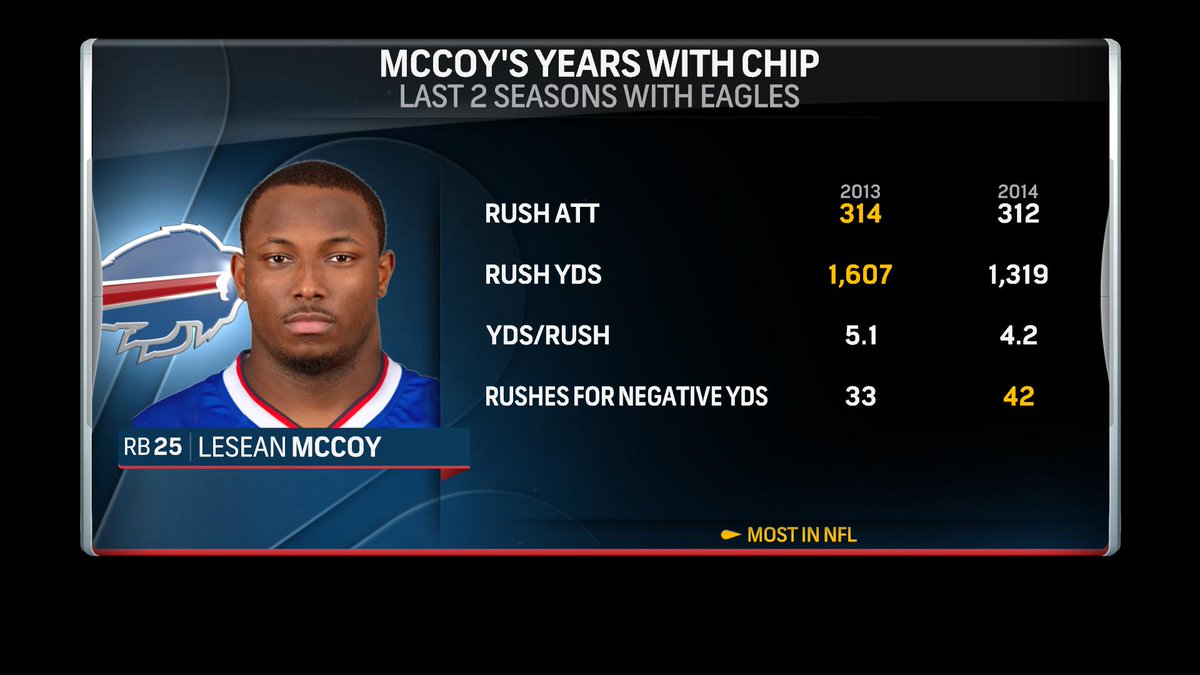 43% of his total career rushing yards have occurred during his time in Chip Kelly's system. I have no problem with him saying he's transcendent of any offensive system, but it's no mistake his highest production has come within the last two years. Prior to 2013, I never once considered him to be a top 3-4 running back and it always bothered me when people said he was.
All of this brings me to my next point….
I'm not an Eagles fan, but I understand football though. I've been a fan of Chip Kelly since he became the offensive coordinator at Oregon. It's not the popular thing to say, but I believe his scheme transcends the talent. I'm not saying you can just throw anyone in there and it will work, but I am saying his scheme isn't dependent on any one player. I remember twitter and the NFL world exploding when Desean Jackson was cut from the team. He had a career high season in 2013 and people really believed that the Eagles offense wouldn't be potent without him. Well…Jeremy Maclin also had a career high season in 2014:
Desean Jackson 2013: 82 receptions, 1,332 yards, 16.2 yards per reception and 9 touchdowns
Jeremy Maclin 2014: 85 receptions, 1,318 yards, 15.5 yards per reception and 10 touchdowns
I definitely don't think Riley Cooper will be the next man up as I expect the Eagles to draft a WR later this month, Super Bowl's (lol cause it's the Eagles) or playoff appearances aren't won in March.
DeMarco Murray is coming off of a hell of a lot of touches in 2014, but I expect him to have good numbers in 2015. It's not just him, but it's Ryan Mathews and Darren Sproles as well. It's not just about the amount of yards McCoy had in 2014, it's about the fact he almost averaged an entire yard less per carry in 2014 (4.2) than he did in 201 (5.1). It's about the fact that McCoy wasn't playing on 3rd downs and on the goal line because he couldn't just hit the gap and go, he had to dance which often resulted in tackles for loss or him running to the sideline. Big factors as to why he wasn't scoring touchdowns last year.
It's NFL Draft Season!
I love the NFL, i just hate certain things about it at times. As excited as I am for the NFL draft, I honestly hate the process building up to it. Everyone hates the fact that it's two months from the end of the NFL combine to the start of the draft. It's really just time for draft pundits to overthink and second guess themselves. It also gives the NFL GMs/Scouts/Execs/etc a chance to anonymously rip 19-22 year olds to shred. Of course the reason they do it anonymously because 1) they are scared of the "backlash" 2) No one likes being wrong so just in case, you don't put a name with the statement, everyone forgets what was said.
Nothing pisses me off more than all the contradictory evaluations when it comes to prospects.
Everyone looks at Marcus Mariota as an Oregon system QB who will most likely fail in the NFL. I disagree with that simply for the fact you can look at him and tell he's better than those that have come before him within the last 20 years. (Oregon's system QB's date back to Akili Smith in the late 90s under Jeff Tedford's system). I have a huge beef with people who don't watch game film before critiquing…which is most of twitter. You know, it's easy to watch maybe one or two games of a player and a bunch of Sportscenter highlights and get on twitter and broadcast your opinion. But I digress. Jameis Winston, who is without a doubt the best QB in this draft (and a top 3 QB prospect of the last 5 years), is also a system QB. Are people quick to forget the #JimboSystem has yielded 3 first round QB prospects in Jamarcus Russell (he was the OC at LSU), Christian Ponder and EJ Manuel? Now obviously we know Jameis is transcendent of the system. We knew this from the moment he stepped on the field as a redshirt freshman against Pitt in 2013. But people see and believe what they want too. I think both QBs will be great. Just so happens that Jameis is much more pro ready then Mariota
Which leads me into this….
Nothing pisses me off more than NFL franchises drafting players who aren't ready to play, and forcing them into bad situations. 
It happens all the time. GM's will draft players with tremendous talent and put the load of a franchise on their shoulders. You play them too quickly and they crash and burn. The average fan (who might also be the loudest fan) only thinks about what he sees when he looks at that player on Sundays during the Fall. Some fans don't realize that a player can bust not just due to his skill (or lack thereof) but it also has a lot to do with his environment.
I referenced my Johnny Manziel tweets at the beginning of this article. I'm not saying Johnny is a bust because it's simply way too early and the sample size isn't big enough, but he wasn't placed into a situation for him to succeed. I'm not just referring to him being forced into the lineup against Bengals or getting injured against a great Panthers defense, but being drafted by a dysfunctional franchise in which the coach didn't want him.
Besides being drafted to the Raiders, who was Jamarcus Russell best receiver? Zach Miller. He led the team in receiving from 2008-2010. Not a knock to Miller, but he shouldn't be your first or second best receiver. That's a recipe for disaster. But this is the Raiders we're talking about.
It's not just QBs who get put into bad situations.
Can anyone tell me what the #3 pick of the 2013 NFL Draft has done? You probably don't even remember who that is at all. Fair enough. Dion Jordan still doesn't have a true position in the NFL. The Miami Dolphins traded up to get him and after two NFL seasons, they still don't know how to use him. It's not his fault they traded up to get him, but the label is going to stick with him if things don't change.
5 picks later in that same draft, the St. Louis Rams drafted Tavon Austin. Two years later, it seems like everyone in the world but the St. Louis Rams know how to use his talents. He's had some good games….some great moments where you realize he has elite abilities….but the Rams just haven't done anything with him.
The examples are endless…I could dedicate an entire article to it but that's not necessary.
*Four years later and I'm still convinced the Jacksonville Jaguars trading up to draft Blaine Gabbert is one of the worst picks of all time. He wasn't good. He never deserved first round consideration. At all. He was never transcendent of the offensive system at Missouri. You can tell that one pick set the Jaguars back for years.
It doesn't matter if it's a QB…a left tackle…or even a corner back. When you're picking high in the draft, you can't afford to miss. It's easy to say certain things in hindsight but the Jaguars did draft Gabbert one pick before JJ Watt. (of course JJ Watt now wasn't like this in college, but for the sake of this article you understand what I'm saying. Feel me?)
Did you like what you read? Whether you agreed or disagreed, send me feedback. Comment on this article or reach me on twitter (@itsablackguy). Do you have a topic you want me to talk about in Vol. 2? Send me ideas, I'm always open for them.